Mrs. Olga, Program Director
Olga has an incredible passion for teaching with over 17 years of experience in the early childhood field. At the age of 16 she started giving private English lessons in her hometown in Russia and received a great deal of recognition for her teaching skills from the students and parents.
Born and raised in Russia, Olga attended Linguistic State University in Nizhny Novgorod, where she graduated in 1996 with a BA in Linguistics and Teaching ESL. She also has a BS in Applied Behavioral Science from National Louis University in Chicago.
Olga has lived and worked in Chicago for more than 18 years. Prior to joining New Einsteins Academy, she was a Montessori teacher at Park View Montessori School. She has also worked as a preschool teacher for a private school in Evanston.
Apart from dedicating her life to making a difference in young children's lives, Olga loves travelling, cooking and learning new languages. One of her newest hobbies is learning how to enjoy the bountiful rewards of parenting while being a working mother.
Ms. Michaela, Young Toddler Lead Teacher
Michaela was raised on the north side of Chicago, where she still happily resides. She grew up loving art, always drawing and painting as a young child. She decided to study art in high school and continue that education in college at Southern Illinois University at Carbondale, earning her degree in Art Education. It was during this time that Michaela discovered her passion for caring for children. She loved working as a nanny following graduation, and as a Lead Toddler Teacher at another daycare center. She finds that making a difference in young children's lives to be very rewarding.
In addition to honing in on her baking craft, Michaela loves travel, reading and being an amateur foodie.
Ms. Jennifer, Young Toddler Assistant Teacher
Jennifer has over 10 years of experience in Early Childhood field. After graduating from Lawrence University with her BFA, she served two years in AmeriCorps where she worked with elementary school children.
After working for several nonprofit organizations as an administrator, Jennifer returned to the field of education in 2010. She worked as an infant assistant teacher at one of Chicago's North Side childcare centers and worked her way up to a lead teacher position there. She loved seeing the children learn and discover the world around them in their first year. At NEA she hopes to expand the children's knowledge and interests, building on their confidence and curiosity as they interact with each other.
Jennifer grew up in Oak Park but has lived in Chicago most of her adult life. She likes to bike and explore new things in the city. She enjoys cooking, nature, travel and doing arts and crafts.
Ms. Daria, Young Toddler Assistant Teacher
Ms. Daria was born in Connecticut. She recently graduated from North Park University in Chicago with a degree in Psychology. For the past 7 years, Daria has worked with kids of all ages at a summer camp in New Hampshire. During her downtime, she loves to cozy up with a good book, travel to different places, hike, and listen to music.
Ms. Kimberly, Older Toddler Lead Teacher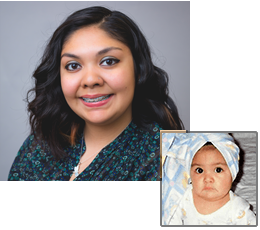 Kim was born and raised in Chicago in a big family. She completed her Bachelor's Degree in Psychology at DePaul University in 2018. She has been working with children of all ages since 2005, taking care of her younger siblings, babysitting for various families and working as a teacher's aide and assistant in daycare settings. Ms.Kim loves working with children because it is fascinating to see them achieve their milestones. She is excited to take on the opportunity to lead the classroom at NEA.
During her spare time, she enjoys being with her family, attending numerous festivals throughout Chicago and going on exciting new trips.
Ms. Nia, Older Toddler Assistant Teacher
Miss Nia grew up in Atlanta, Georgia and later moved to Illinois with her family. She graduated in 2014 from Wilbur Wright College with an Associate in Arts, and took several early childhood courses at the same college. She discovered that she enjoys caring for younger children while working as an assistant teacher at a small daycare in Melrose Park. Nia's current goal is to continue working in early childhood and get a teaching degree in the future.
She is a very caring person and loves to see children laugh and be silly. In her spare time, Ms. Nia enjoys playing the flute, cooking with her boyfriend and trying different cuisines. She also adores her beautiful niece and visits her in Canada whenever she can.
Mrs. Alysia, Older Toddler Assistant Teacher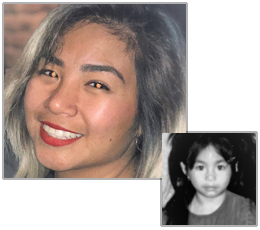 Mrs. Alysia was born and raised in Chicago. She grew up taking care of her little brother, nieces and nephews, and always enjoyed being around children. She officially started her career in the field when she got an assistant teacher position in a preschool classroom at Earl Shapiro Hall of University of Chicago. Alysia was happy to finally have the opportunity to channel her passion for educating young children. She truly enjoys the conversations and interactions with children, and hopes to become a preschool teacher one day.
In her spare time, Mrs. Alysia loves singing and dancing, volunteering for charities, and being with her family. She is also interested in photography and other art forms.
Mrs. Nefira, Preschool Lead Teacher
Nefira was born and raised in Bosnia. Coming from a large family, even as a little child, she was always interested in babysitting and taking care of her younger siblings, nieces and nephews.
She immigrated to the U.S. at the age of 20 and lived in Arizona for several years before moving to Chicago. She stayed home to raise two children, and later applied for an assistant teacher position at her daughter's daycare center to stay close to her. Mrs. Nefira loved it so much that she decided to pursue a career in early childhood education and received an associate degree in the field. Before New Einsteins, Nefira worked as a lead teacher at Bright Horizons for 16 years. She is happy and passionate about working with young children and enjoys teaching them new and exciting things every day.
Nefira loves spending time with her family, traveling to new places and meeting with people from diverse communities. She is looking forward to babysit her own grandchildren someday.
Ms. Claudia, Preschool Assistant Teacher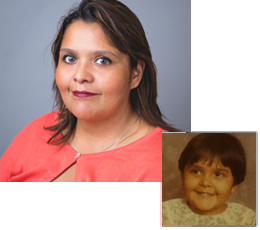 Claudia joined New Einsteins Academy in September 2016. A native Chicagoan, she grew up in a culturally rich Mexican family. In 2006, she obtained her Bachelor's in Elementary Education with an endorsement in Spanish from DePaul University. While at DePaul, she received an award for academic excellence from the Department of Latin American Studies. Much of her experience in early childhood comes from having four beautiful children. Claudia also has experience working with kids with various levels of disabilities (physical, mental and cognitive), including two of her own children. Claudia is excited for the opportunity to incorporate Spanish songs and activities into the daily curriculum.
Outside of work, Claudia loves to spend time with her family, going on road trips and visiting parks, museums, games, and concerts. Her favorite color is blue. She is a big fan of Chicago Blackhawks, White Sox and New England Patriots.
Ms. Sable, Preschool Assistant Teacher
Sable was born and raised in San Antonio, Texas. From a very young age she developed an innate interest and understanding of creative processes. Once she graduated high school, she spent quite a few years studying art in cities like Los Angeles and Austin. She graduated from the University of Texas at Austin in 2013 with a BFA. During her college years, she worked at a play-based daycare in Austin, where she discovered the connection between creativity and child development. She fell in love with inventing sensory projects that allowed children to experience and understand the world around them. It brings her great joy to see children explore mundane everyday materials like cardboard and bubble wrap with the same enthusiasm she had when she was a child.
Since she moved to Chicago, Sable enjoys exploring the city with her boyfriend. She also devotes a great deal of time to her creative practices like drawing, painting, printing and sculpting. When Sable isn't racking her brain about art, she's cooking food, reading and cuddling with her dog.
Ms. Jenn, Pre-K Lead Teacher
Jenn is from the small town of Decatur, Michigan. After graduating high school, she took her father's lead and became a Spartan. She graduated from Michigan State University in 2006 with a BFA in art education. While in college, she worked part time as an assistant at a child development center. This is where her love for early education blossomed. After college, she moved to her dream destination of Chicago and has been teaching ever since. She has had multiple opportunities to teach a diverse age of children, ranging from infancy to twelfth grade. Jenn has been a substitute teacher, a lead toddler teacher, an elementary art teacher and a Pre-K teacher. Her favorite thing about teaching young children is experiencing their unconditional love. She thinks it is wonderful to be responsible for teaching them something they did not know before, and watching them retain the information and make connections. She also loves the special bonds that are formed with the children and their families. Jenn finds teaching very rewarding.
In her free time, Jenn likes to ride her bike, commuting all over the city and enjoying the urban scenes. She also likes to be outdoors in nature, listen to music, spend time with family, cook, paint, draw, make jewelry and design terrariums.
Ms. Mirna, Pre-K Assistant Teacher and Assistant Director
Ms. Mirna was born in Amman, Jordan and raised on Chicago's northside. She received a B.A. in Early Childhood Education with Type 04 teacher certification from North Park University. After graduating, Ms. Mirna worked in many diverse places including NEA Bucktown. She worked with first graders with special needs and as an assistant director in a Head Start program. Ms. Mirna is loved for her kind ways, understanding heart and clear academic expectations.
What she adores the most about children is how they inspire her to love, laugh and appreciate life every day! In her free time, she loves being with her family, especially her adorable nieces.
Ms. Adriana, Pre-K Assistant Teacher
Adriana has various experience working with children. She became an aunt at the age of 11 years old and that is where her fondness of being around children began. When high school came around, she was able to major in Early Childhood Education for three out of four years. There she was able to learn how to provide instruction and care for children through their part time, on site pre-school setting for children 3-5 years of age. Her first official job was as a teacher's aide in a small day care center with children from 6 weeks to 5 years old. From there on she has been a nanny for children starting at the age of 6 months to 8 years old. Her favorite part of being around kids is the fun she has being able to teach children to be respectful, independent, clever, and knowledgeable in Spanish on a regular basis. She received an associate's degree in liberal arts from Harold Washington. Her goals are to return to a university to be able to continue studying and advance in the child care field.
As a kid at heart, Adriana loves to spend her free time exploring nature, reading comic books and playing older arcade games. She is also interested in healthy habits, such as exercising and balanced eating, attending concerts, and visiting new cities out of state.
Mrs. Bianca, School Floater
Bianca was born and raised in Chicago. She holds an Associate degree from Wright College and is planning to further her education and obtain a graduate degree in elementary education in the nearest future. She worked for the YMCA for over 2 years, where she went from being an after school counselor to leading a camp program of 60+ six and seven year olds. Bianca is enjoying working with a variety of ages at NEA and always finds herself learning something new from her tiny students.
In her spare time, Bianca likes to read, check out comic book shops, do yoga, watch Dr. Who, and hang out with her family and her cat named Katniss. She also
Mrs. Hilda, School Aide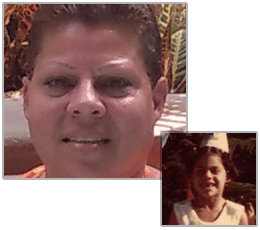 Mrs. Hilda was born in Mayaguez, Puerto Rico in 1969 five days before Christmas. At the age of five she moved with her mom and two siblings from the island back to Chicago, where her parents were originally from. She graduated from Lakeview High School and became a member of the National Beta Club. Today Mrs. Hilda is a wife, the mother of two boys, 26 and 19, and the grandmother to her first grandson Jordan.
She enjoys many things outside her work. Hilda likes to cook for her family, enjoys camping, dancing and spending time with her large family. Her family's favorite activity is family game night. Mrs. Hilda is very involved in her community and sees every day as a learning experience.
Mrs. Joanna, Substitute Teacher
Joanna lives in Rogers Park with her partner, Jake, and their cat, Mika. She graduated from Loyola University Chicago with a BA in English and Psychology where she studied English Literature and Affect Theory. She has also completed two more early childhood classes at Truman College to advance her career in the Early Childhood field. Joanna still writes every day and wants to become a freelance writer for a myriad of literary magazines. She has over 4 years of experience working in licensed childcare centers and has worked with children 6 weeks to 12 years of age.
Joanna has always placed an emphasis on process-oriented learning and treats children with the dignity and respect that she seeks from others. Her greatest qualities are her sincere empathy and conscientiousness. She sees working with children as a symbiotic relationship and learns from the children she works with every day. Joanna has interests in doing early childhood intervention work and would like to someday work for families who may need assistance for a variety of intersectional reasons.
Joanna is a prolific reader, writer, hiker, and consumer of herbal tea and delicious vegan food.